<!img src="img/UNESCO-logo.gif" alt="UNESCO-logo.gif" class="fleft" />
Second lecture phase
Seventh week, Nov 21 - Nov 25
10:00 h to 12:00 h, Room U 011, OMZ, INF 350
14:00 h to 16:00 h, Room 440, IWR, INF 368, if not otherwise stated

Tuesday MEETING with the Daimler-Benz Foundation at Ladenburg
Nov 22, 11:00 h, Karl Benz Haus

We met at 10:30 h at IWR and went to Ladenburg by three cars, sufficient for the twelve peolpe of our group. At the Karl Benz Haus, we were cordially welcomed by Dr. Jörg Klein and Thomas Schmitt, who took us on a tour through the cellar for a photo session on a model of the first Benz.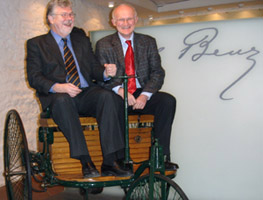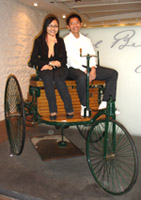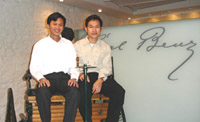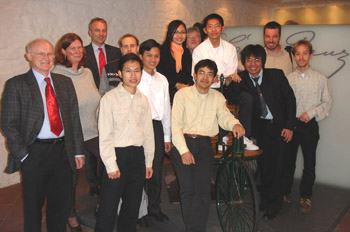 Back in 1886 people did not beleave in a long distance travel with such a machine unless Bertha Benz proved it by going from Mannheim to Pforzheim. Today, the Daimler-Benz Foundation tries to forward projects which at the beginning look similarly promising.





In a very relaxed atmosphere we took the chance to present the work of our Angkor Project Group, a students cooperation between the RUFA, Phnom Penh, and the IWR, University of Heidelberg. Since the beginning of 2005 we made immense progress in virtual reconstructions of the central temples of Angkor Wat, Phnom Bakheng, Kravann, and very recently, Bayon (during the two month stay of our guests from Cambodia).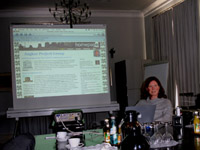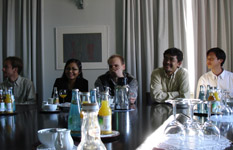 Three short videos of virtual tours through the temples are finished by now and promising work has been done to automate many tedious processes in data aquisition such as using selfmade software for vectorization of complicated 3D forms or level of detail methods for terrain visualization and shape from shading algorithms for a better perception of reliefs.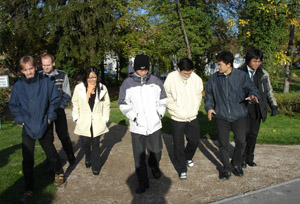 After a very delicious soup for lunch we took a walk through the park where Professor zu Putlitz, president of the Daimler-Benz Foundation, guided us to the first garage in the garden of the Karl Benz Haus and walked over to the nearby river Neckar to have some more discussions in the late November sun.




!!!Finally we have SNOW on Friday!!!

Workshops this week concern the following:
Topics
Introduction to volume rendering
Higher accuracy through adaptive refinement
VRML and Internet
Generation of walk-throughs
Basics of ray tracing
Photorealistic images with POVRAY
Monday
Tuesday
Wednesday
Thursday
Friday
Susanne
Ladenburg
Daimler-Benz
Michael
Daniel
Silvia
Carl F.
R 440
Seminar
U 014
Project work
Project work
Daniel
Silvia
Carl F.
R 440