<!img src="img/UNESCO-logo.gif" alt="UNESCO-logo.gif" class="fleft" />
Projects phase
First projects week, Oct 24 - Oct 28
Seminar
, Oct 24, 14:15 h, Software practicals
Presentations (Phnom Bakheng Reconstruction, Archeology Tool)
Wednesday EXCURSION to Lorsch
Oct 26, Kloster Lorsch, UNESCO World Heritage Site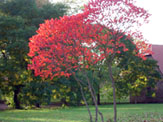 The regional train from Heidelberg arrived at Bensheim about 10 o'clock. There we were awaited by a small bus from the Abbey Lorsch.
In the morning we first went to the "Museum" where we got an introduction to the assembly of a European monastery by means of an ideal map of a monastary at Reichenau. Dr. Hermann Schefers himself guided us through the exhibition and explained in detail the Medieval live in the area of Charlemagne. Architectural models of various states of knowledge could be seen as well as relicts and excarvations. And of course the film about the virtual reconstruction of the abbey by Prof. Manfred Koop, Darmstadt.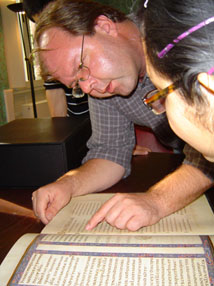 We took our Lunch break in a nearby Asian restaurant, where we approached the intercultural exchange.
In the afternoon we had a fantastic look at the reconstructed facsimile of the "Lorsch Gospel Book" and also some other facsimiles of the world famous library. The originals of course are locked at the Vatican Libraby and in Romania, respectively. Afterwards we visited the inside of the so-called "Königshalle" which nowadays is restored in a very sophisticated manner. Then we went to the current excavation inside the rest of the hall church. Dr. Platz from the University of Bamberg showed us the recently excarved fundaments with spolia (stones from earlier buildings).
A walk through the herbage garden with more than hundredfifty different herbes all mentioned in the famous pharmacopoeia of Lorsch rounded off the picture of monastic life.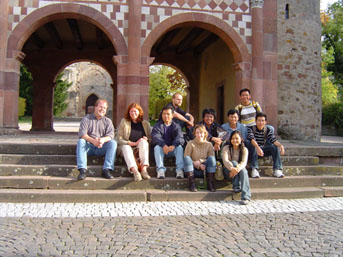 Enjoying the light of a golden October day on the stairs of the "Königshalle" we took several group pictures.
Finally we were brought back to Bensheim train station and returned to Heidelberg.
Thursday: Introduction to Meng's Program
From 10:15 h to noon, Somporn Chuai Aree (Meng) will give an introduction to his program, which is able to find the outline of archicetural ornaments by diffusion of a seed. This saves a lot of work if used as a preprocessing step when plans or images shall be read in AUTOCAD.
In the afternoon, practice and exercises will certainly bring up additional questions, which shall be formulated and then will be answered again by Meng later in the afternoon.
Monday
Tuesday
Wednesday
Thursday
Friday
Lorsch
Meng's program
Seminar
U 014
Lorsch
Meng's exercise